While purchasing a new car, the situation of your current car becomes a matter of worry. However, with the option of a trade-in that problem subsides. While trading in your old car, keep in mind tips such as knowing your trade-in range, making necessary repairs and purchasing an old model to obtain the best value.
When the used car in your garage starts giving you signs of old age, you know it is time to make a decision. You have got a few options. Two of them include selling it privately or advertising it under automobile classifieds; both options inviting buyers that would haggle over a lower price. Another alternative is to trade-in your old car while significantly reducing the purchase price of a new one. It is an easy way to get rid of your used car. The money worth your old car is reinvested as the down payment for your new one, thereby, reducing your overall purchase price and lowering the monthly payments.
Different Trade-In Tricks to get the most out of your Deal
Getting a decent value for your old car is no cake walk. The following tips will assist you in obtaining the best value for your old car: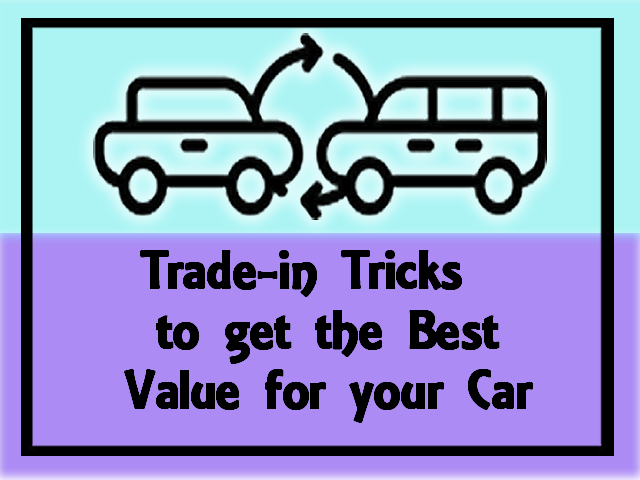 1) Know Your Trade-In Range
Every dealer tries to pay less for a trade-in car. If you are aware of the value of your used car, you will be in a better position to negotiate a high price. You can visit several dealers and research on automobile portals to get a better understanding of the make, model, mileage and condition of your vehicle. With the help of sufficient research, make a high-end and low-end negotiable range. When the dealer asks for the price you are willing to trade for, you can start with your high-end realistic price and not trade-in below the low-end price range. Having a clear range in mind will assist you in obtaining the deserved price for your car.
2) Make Necessary Repairs
If you are using your car since your college years, it is a good idea to check it before you trade it in. Any visible damages will reduce the net price of your car and lead to a lower trade-in value. However, it doesn't hurt to give your car an interior and exterior makeover before visiting a dealer. Simple repairs such as cleaning the carpets, concealing scratches and fixing major dents will go a long way getting a good deal
3) Purchase an Old Model
Generally, outdated models are low in demand and become piled up as unsold inventory. If you purchase an old model, the dealer is likely to offer you a good price. Additionally, planning your purchase during the end of the year will aid you in getting a good value for your old car. It is the time of stocking new inventory and old models occupy unnecessary shelf space at the dealership lot. A dealer will be more than eager to sell you an old model. Thus, purchasing an old model during the end of the year will help to get a better deal.
When it comes to trading in an old car for buying a new one, obtaining a good value becomes economically essential. Knowing your trade-in range, making necessary repairs and purchasing an old model are a few trade-in tricks that will help you in obtaining the best value for your old car.
Are you trading your car for a new one? Do not forget to consider an auto loan for buying a new car. If you do not have money to make a down payment, choose EZ Auto Finance to avail zero down payment auto loans. Trust the bad credit auto financing company for finding you the best loan deal.
Latest Blog Posts
Buying a Used Car Is Good For Your Financial Health
In today's age, a car is a necessity. Buying a used car will get you more benefits for the money that you pay to the dealer. Why spend extra dollars for just the smell of a new car? Instead, buy a used one to save money and enjoy more benefits! Read more...
Bad Credit Auto Loans: A Way to repair your Credit Score
Buying a car with a bad credit score is difficult. But, with the help of bad credit auto loans, you can buy the car of your choice. Also, it will help you to repair your credit score. Read more...